WORLD'S GREATEST SHAVE - LEUKAEMIA FOUNDATION

What a Big Day in Chinville..!
Time to lose the locks, braid or colour your hair to help Aussie families facing Leukaemia, Blood Cancer.
La Unica Salon was up early to scalp heads for the launch of World's Greatest Shave 2017 at Sydney's, Martin Place.
Sign up to be brave and the expert team will help you raise funds to support Australians with blood cancer. Leukaemia Foundation World's Greatest Shave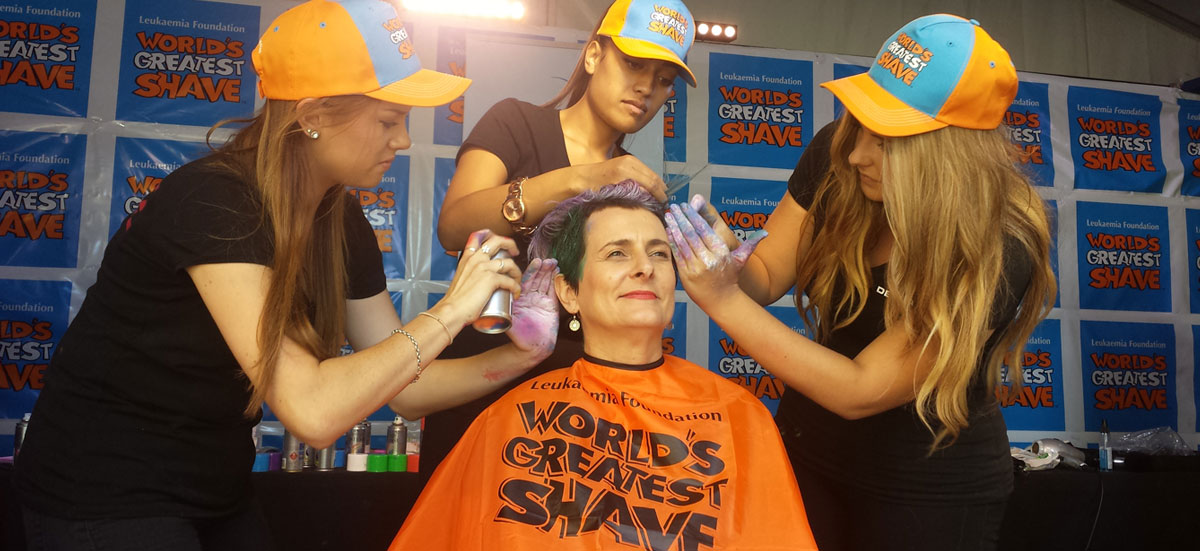 World's Greatest Shave 2016 | 2017;
Leukaemia Foundation of Australia
Aussies Get Set For A Hairy Challenge
La Unica Salon are proud to support the 2016 and 2017 launch of World's Greatest Shave at Sydney's, Martin Place. Susana Montero, Managing Director of La Unica Salon coordinated the volunteer hairdressers from the Australian Hairdressing Council and Youth Worx for 2017 and volunteered her time on stage to shave | colour | braid and hair art on the brave fundraisers.
World's Greatest Shave will be a Green Event at Sydney's Martin Place were all the hair waste will be collected by Sustainable Salons and turned into hair booms, that assist in cleaning up oil spills in Australia's oceans
All the hair donations will go towards making hair wigs for children suffering with cancer.
World's Greatest Shave iconic event is one of Australia's biggest fundraisers.
Each March more than 150,000 people will get sponsored to shave or colour their hair to support Australians with blood cancer and fund research.
Today, 34 Australians will be given the devastating news that they have leukaemia, lymphoma or myeloma, and they'll turn to the Leukaemia Foundation for help.
Although survival rates are improving, blood cancers are the third biggest cause of cancer death in Australia.
Getting sponsored to shave, colour or wax the hair on your head, chest or face, is an extraordinary way to help families facing the challenge of blood cancer and to help Australia's best researchers.
The money your sponsors give you will go towards research, which is needed to discover kinder and more effective treatments for blood cancer.
Your sponsorship will also support families when they need it most, providing people with leukaemia, lymphoma and myeloma with a free home-away-from-home near hospital during their treatment.
It will also mean we can transport them to appointments and provide as much practical assistance and emotional support as we can, all free of charge.
The Leukaemia Foundation receives no ongoing government funding, so supporting this event makes our Vision to Cure and Mission to Care possible.
SPONSORS and SUPPORTERS
Thank you to La Unica Salon sponsors and hairdressing volunteers that make this event possible. We also acknowledge the many other supporters that volunteer and donate to World's Greatest Shave.